If you want to build a new website, blog, or eCommerce shop, WordPress and Elementor are definitely the right choice. With this combination, you can create high-quality websites that offer you many possibilities.
Elementor is a great page builder tool that allows you to easily build professional-looking websites yourself. Elementor is a so-called WYSIWYG (What You See Is What You Get) page builder.
Both WordPress and Elementor are completely free! The only thing you have to pay for is website hosting and the domain name.
But there is also a premium version of Elementor that you can buy. Elementor Pro then offers more features that you can use. You have to decide for yourself whether it makes sense to buy Elementor Pro.

Do you need a specific feature that only Elementor Pro offers? Take a look at the WordPress plugin database. Most of the time, you can find free extensions for Elementor there that you can use to add the features you want.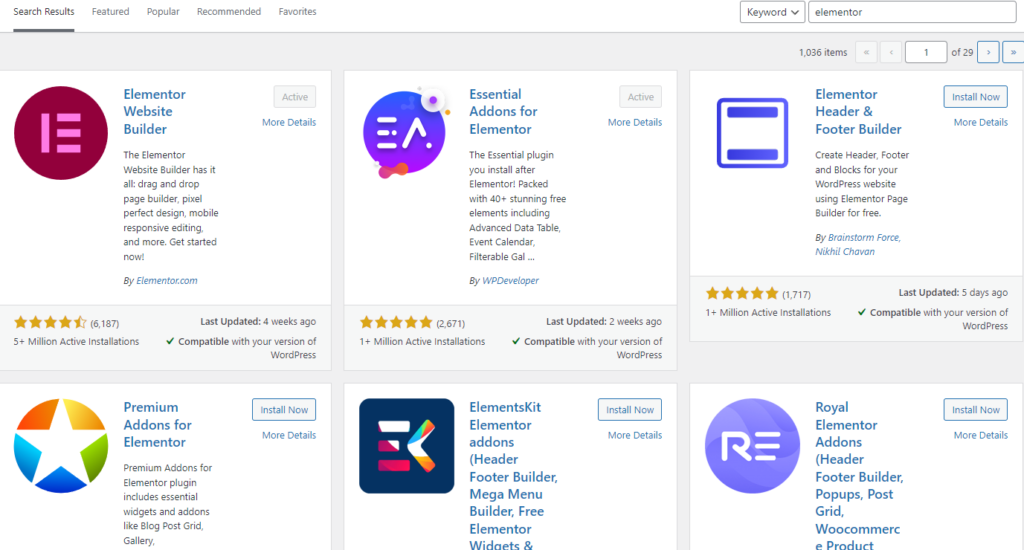 If you enter the search term "Elementor" in the plugin search, you will see many, mostly free, extensions for Elementor.
Why is WordPress.org free?
WordPress.org is open source software, more precisely an open-source CMS (Content Management System) which you can install on your server completely free of charge.
WordPress is the most popular CMS system in the world! Even large companies rely fully on WordPress basis to create their websites.
With WordPress, you have almost no limits. It doesn't matter if you want to build a website for a small company if you want to create a website for a very large website with many pages, if you want to create an eCommerce shop, or if you want to create a blog. WordPress is the ideal tool for all applications.
An open-source CMS has the advantage that the source code is visible to everyone and can be changed by anyone. This also makes WordPress extremely secure, since everyone has access to the code, so vulnerabilities can be discovered and fixed quickly.
Of course, there are also many extensions, so-called "plugins" that you can install. Many plugins that can extend the functions of your WordPress website are available free of charge. But you have to buy other plugins. These premium plugins then offer special functional extensions that you usually do not get with free plugins.
Why is WordPress.com paid?
WordPress.com is paid because this service is not directly based on the open-source software from WordPress.com. With WordPress.com you have an online page builder, with which you do not store your website or your content on your own server, but outsource the file management to a company that does the hosting and file management for you.
Another downside to WordPress.com is that you don't have the ability to use the large number of plugins or extensions available for the open-source variant of WordPress.com.
So you have to limit yourself to a smaller selection and don't have the freedom you have with WordPress.org.
But the positive thing about WordPress.com is that you have a service contact. If something doesn't work or your website is broken, you can contact the service and they will help you with your problems.
Since WordPress.org is open source software, you will not receive any support there. Everything is in your hands and you have to take care of security, regular backups, or troubleshooting yourself.
However, you have the option of hiring a freelancer to fix errors on various platforms such as Fiverr or Upwork.
Conclusion
If you use WordPress.org and install this CMS on your own hosting server, WordPress is completely free. Of course, there are costs for domain name and hosting, usually between $3-$20 per month.
Elementor is completely free in its basic version. Elementor is a page builder that you can install on your WordPress website and design websites according to your taste.
There is also WordPress.com, this service is not free as in this case your data and website are hosted and made available by WordPress.com.