When it comes to web design for real estate, you want to make sure that your website is looking its best. After all, this is the first impression that many visitors will have of your business. Our team of experts can develop a high-quality website for your real estate company that will help convince potential buyers and sellers to work with you. With a website from us, you'll be able to present your real estate online in the right light!
We have been designing high-quality websites for our customers for more than 25 years. We have great experience in website design, not only in the field of real estate. The advantage of working with us is that we always have new and fresh ideas that will impress your visitors and clients.
Creativity and fresh ideas when designing a website are very important as it allows you to differentiate yourself from your competition. Especially in the real estate business, it is important that you impress your customers on the website.
Your real estate website is your business card. Therefore, you should not make any compromises and choose a partner who has a lot of experience and the best ideas.
If you are looking for a web design company that can help your business, please do not hesitate to contact us. We would be happy to discuss your project with you!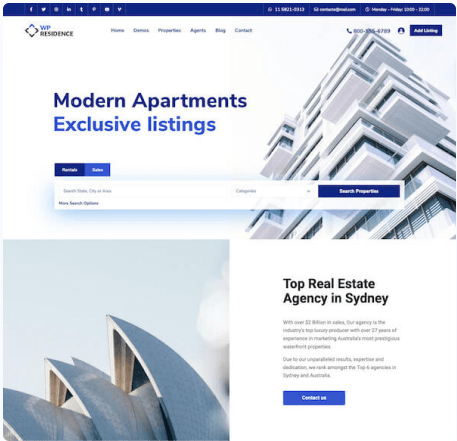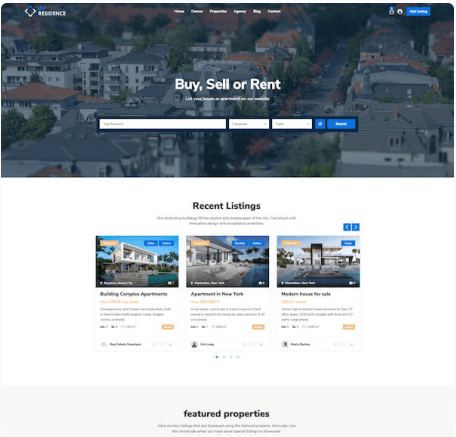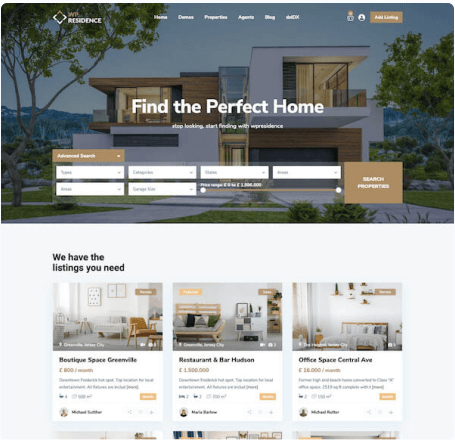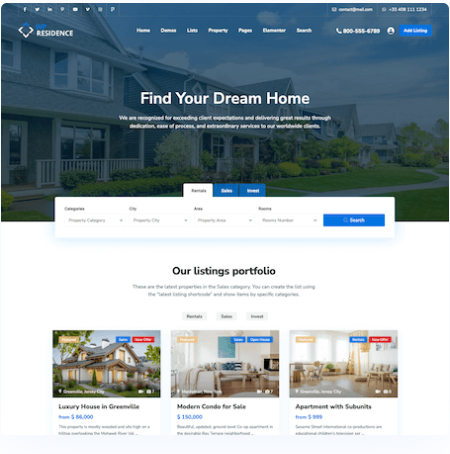 Many years of experience and a large portfolio of real estate clients distinguish us!
"We Care About You And Your Business!"
We know exactly how important your business is to you. That is why we will do everything we can to provide you with the best possible service. We have been working in the field of web design and digital marketing for many years and have been fortunate to work with many different clients. Every customer is very important to me and the satisfaction of my customers always comes first for me.
Professionalism and high-quality results are very important to us because we want to build a long relationship with our clients. If you hire us to carry out a job for you, we will do everything to fully meet your expectations.
What Is Important In Web Design For Real Estate?
Impressive design that catches the eye
Fresh and new ideas for web design
Experience in web design and real estate
Creativity and fresh ideas when designing a website are very important as it allows you to differentiate yourself from your competition. Especially in the real estate business, it is important that you impress your customers on the website. This will show them that you are an authority in the industry, and they will be more likely to work with you.
Your website is your business card. Therefore, you should not make any compromises and choose a partner who has a lot of experience and the best ideas. At our company, we pride ourselves on being able to provide web design for real estate that is both creative and effective.
How do we create your new real estate website?
If you decide to have a real estate website created for your company, we will discuss the project with you in detail. Do you already have a website that you would like to redesign or do you have a specific idea of what your website should look like?
Other important points are, do you want to blog and publish these articles on your new website? Would you like to manage your current real estate offers yourself on the website? Do you need special functions that allow your customers to book a viewing appointment for the individual properties online directly on the website?
There are many (almost unlimited) possibilities to customize your website and to offer your visitors a high added value and a high level of user-friendliness.
If your visitor already feels comfortable on your website, he will probably contact you and you can make a high-priced sale.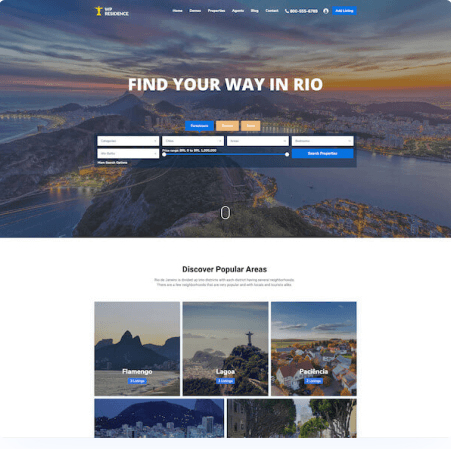 Which functions do you need in your new real estate website?
No matter what features or functions you need in your new professional real estate website, we can implement those features!
We create high-quality galleries, add various contact functions or even functions where your employees can independently add new properties to your website.
There are no restrictions on the functionality of your new real estate website!
Why is WordPress so well suited for your new real estate website?
We are big fans of WordPress and its range of functions. We design your new real estate website using WordPress. WordPress allows us to customize the design of your website. The CMS system WordPress also allows you to edit content yourself and to manage and maintain your website without the help of professionals.
WordPress offers other benefits, such as: being able to create your own blog and write new articles for it. You can also manage your real estate offers on the website yourself and integrate them into a web page with a filter function that allows visitors to find their dream home based on certain criteria (e.g., price, number of rooms, distance from the city center).
WordPress is very popular in web design because of its many advantages over other content management systems. It is not only used by large corporations but also by small businesses such as our agency's customers who want to expand their business online.
If you want more information about web design or WordPress, we would be happy to advise you! Do not hesitate to contact us now!
How much does a real estate website cost?
That is always very difficult to answer and usually always depends on the customer and the wishes and the range of functions. In general, you can say that our prices for a new real estate website design start at 800 euros (around 860 USD). But as said, if you want special features or a special design, or need a lot of subpages, the costs are wide open. Web design for real estate is usually very time-consuming since many functions have to be integrated in order to be able to offer the website visitor a great experience.
When you contact us and tell us about your web design project, we will make a free offer for web design. You can then see how much the web design would cost in detail. We are always flexible with our customers and you get web design at an affordable price from us!
Visit our "Pricing Page", there you will also get an impression of our services and our pricing.
We Work With Clients All Over The World!
It doesn't matter where you or your company are from! We're always just a phone call or email away. We can create websites for real estate companies in English and in german language.
On request, we will develop a real estate platform for you where you can present your real estate. We build practical search and filter functions so that your customers can quickly find the property they want.
Give your customers the opportunity to find their dream home or apartment via Google maps. We can add a Google Maps feature to your website that will easily show your properties and apartments on a map.
Would you like to manage your new website yourself?
No problem, every website package includes intensive training in which we show you exactly how to manage the new website. We will also explain the various functions of your new website to you in an intensive zoom training session. So you don't always have to contact us.
After the training, you will be able to add content independently or add new images and texts.
But we are always at your side even after you have completed our service. So if you have any questions, you can always contact us by phone or email and we will always help you immediately!
Security, backups, and updates
The issue of security is becoming more and more important for websites. Since we create your new website with WordPress, you are already on a very secure platform. Since WordPress is open-source software, errors and weaknesses can be identified and eliminated very quickly.
Updates are installed automatically, so you don't have to worry about updates. Core updates are also installed automatically.
We also implement an automatic backup function that makes automatic backups of your website and the database at regular intervals. So if something goes wrong, your website can be restored very quickly.
All backups are of course stored on external drives or cloud solutions. So your backup data is always safe and protected from unauthorized access.
I am very interested in your service, what do I have to do now?
We are pleased that you are interested in working with us! If you want to start now and take your real estate business to the next level with a new and professional website, you first need a domain (yourname.com) and web hosting on which the data of your new website will be stored.
If you don't have a domain name or hosting yet, we recommend the company "Bluehost". We have had good experiences with this company.
Then all you have to do is contact us or fill out the form down below and give us all the details and wishes for your new website.
If you accept our offer, it will start in a few days. We will introduce you to the first concepts and discuss the exact range of functions of your website with you.
Let's Start Your New Sales Machine 😉