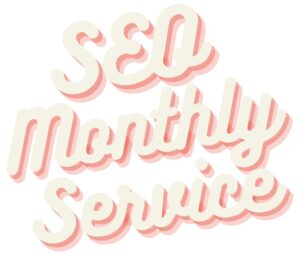 Best SEO Service On A Monthly Basis
Start your website optimization right away by choosing the appropriate SEO plan that best suits your needs.
Do you want to appear ahead of your competition in Google search results? We help you to rank your website or eCommerce store rank higher on Google, Bing, and other search engines. We increase your sales, lead generation, and increase the visibility of your website/company enormously.
With our help, you can attract local clients as well as clients worldwide to your website. Convert more visitors to paying customers.
Don't miss out on potential clients by ignoring the power of search engine optimization and content marketing.
We offer different SEO packages that fit your website and your budget. Monthly search engine optimization is essential to optimize your website in a targeted manner.
We build your tailor made SEO strategy

Every website is different, every market is different, so it is very important to find a tailor-made SEO strategy that will help you and your website and ultimately get your website to the top of the search results.

Unfortunately, it is not possible to say in general which SEO measures work. Since every market has different challenges, we have to analyze your website and your competition before optimizing. What does your competition offer on their website, what helps your competition to appear higher than your website in the organic search results?

For each of our SEO customers, we create an in-depth SEO and competition analysis in order to develop a strategy to increase the positions in the organic search results in the long term.
Regular SEO measures are the key to success

Search engine optimization is not a one-time job. In order to be able to rank high in the search results on Google and co, we have to optimize and improve your website on a monthly basis.

Every month we optimize certain pages of your website, optimize keywords, add relevant content, add unique images and graphics, and improve your website's page visibility.

You can compare your website to a GYM, if you don't work out regularly it's useless. Constant effort is important for the success of your website.
The SEO Optimization Plan
This is how we proceed to optimize your website and give it a permanent advantage:
Technical analysis of your website: Before we start optimizing your website, it is important that we analyze your website in detail. We carry out an analysis of the technical condition of your website. is the speed of your website ok? Does your website have a sitemap or a robot file? Furthermore, we check the structure of your website and improve it.
Analysis of the content: We take a detailed look at the content of your website. What can be improved? What is completely missing? What is already ranking? Etc.
Analysis of the Google Analytics data: The data from your Google Analytics account can tell us a lot about your website and your website visitors. Here we find very important data that will help us with future optimization.
Analysis of your competition: Every company or online business has competitors. But what are your competitors doing better than you? Why does your competitor's website or shop appear before your website in organic search results? With a detailed competitor analysis, we can see exactly why your competitor ranks better than your website. This information is extremely important to develop a unique SEO strategy for you.
Creation of high-quality content: Based on the analysis, we can now start creating extremely informative content for your website every month, optimizing pages, optimizing product descriptions, etc. The more informative and helpful the content on your website is, the better it will be in the rank of organic search results. We also have to offer your potential visitors or customers a clear advantage.
Creation of unique images, graphics, and videos: Unique visual content is very important to improve your website. For this, we develop a detailed concept in consultation with you.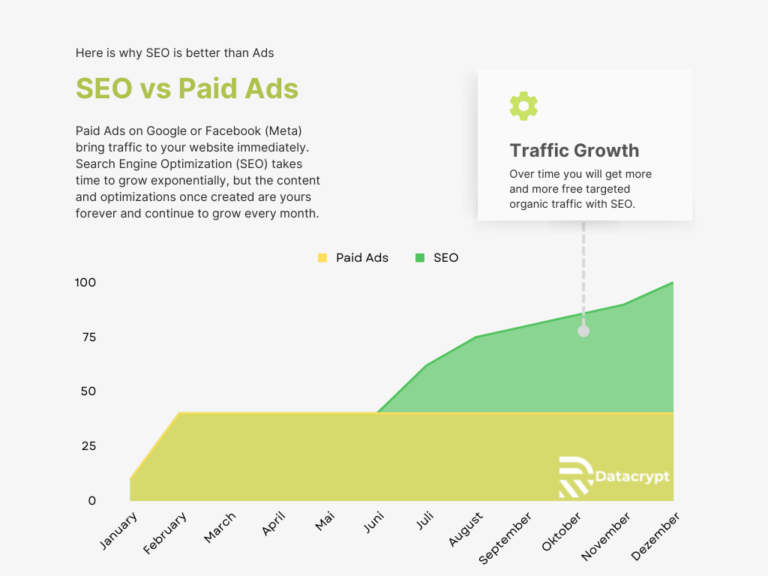 This is what you can expect from our monthly search engine optimization service
But why should you invest in monthly SEO messages?
There are several reasons why it may be beneficial to invest in ongoing SEO efforts:
Search algorithms are constantly evolving: In order to maintain a strong ranking on search engines, it is important to stay up-to-date with the latest SEO best practices. This requires ongoing effort.

The competition is ongoing: Other websites are also working to improve their ranking on search engines, so investing in ongoing SEO can help a website stay ahead of the competition.

The benefits of SEO compound over time: As a website's ranking improves, it is likely to receive more traffic and conversions. These benefits can compound over time, making ongoing SEO efforts even more valuable.

SEO can have a long-term impact: Unlike paid advertising, which stops as soon as the advertising budget is exhausted, the effects of SEO can continue to drive traffic and conversions for a long time. Investing in ongoing SEO efforts can therefore have a long-term impact on a business.
Overall, investing in monthly SEO efforts can help a website maintain a strong ranking on search engines, drive traffic and conversions, and have a long-term impact on a business.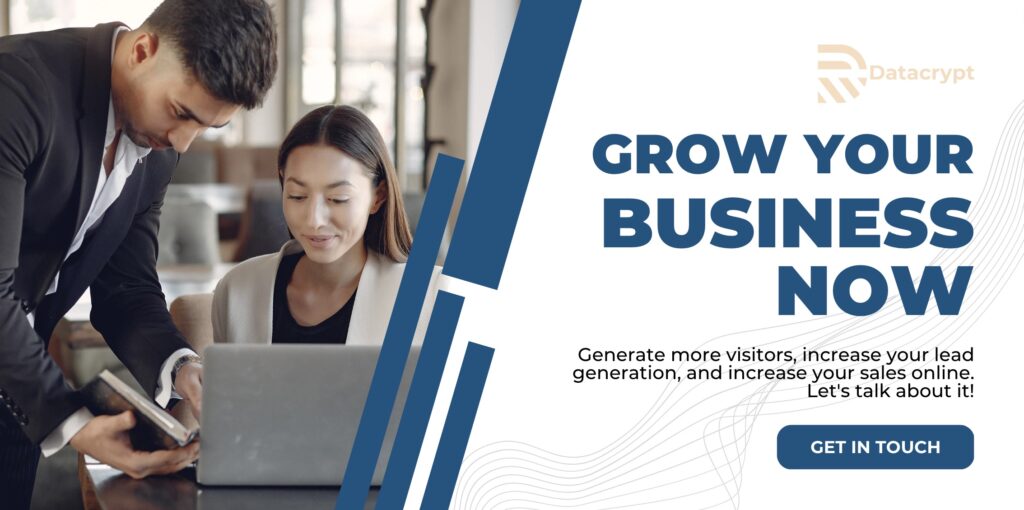 Our SEO Monthly Plans You Can Choose From
Why People Love Our Services…
SEO Audit
The SEO audit, or SEO analysis, as some SEO experts call it, is an in-depth analysis of your website's on-page optimization and how we can make improvements compared to other websites in the same market. We will also send you a competitive analysis showing you who your local competition is for the same keywords. No two websites are the same in any given niche, we understand what it takes to get your website on page #1 on Google and Bing and keep you there forever!! So before you start your digital marketing SEO package, get a free website analysis first and then talk to Datacrypt SEO consultants to start your SEO campaign.
Which SEO Package Is The Best For Me?
Most businesses usually start out with our "CORPORATE SEO Package" for maximum and effective SEO Results to boost their page rank quickly on Google and other major search engines, like Bing or DuckDuckGo.
If your site is a little older (2-3 years), and you are getting found well but still need that competitive advantage, then you will most likely need our "BASIC SEO Package".
If your site is about a year old and you have a tough time gaining ground on your competitors, and your market is fairly competitive, then try the "CORPORATE SEO Package".
How Do We Start?
Once you booked a SEO package, we just need your URL and Keywords to get started on your SEO Services Campaign. Once the works begins, we will keep in touch on a weekly basis and email or call you if we have any questions.
We still need access to your website to optimize your existing content and add new content. We also optimize, for example, your title tags or the meta descriptions of the individual pages.
Think of us as another team member at your company. We are closer than you think and have nearly a 100% success rate in ranking our clients websites high in all the major search engines for their keywords and market, whether that are in the United States or in Europa.
Content Writing
New and fresh content is very important for your website. Regularly published content is a big ranking factor for your website. Search engines such as google or bing love fresh and informative content that informs and entertains your visitors.
We will regularly publish content on your website that fits your business and is important for your customers and visitors.
Engaging Articles – By researching each topic and creating a well written article that includes your keywords is a great way to inform, educate and build a targeted audience on that web that will make your visitors come back on a regular basis to your website. If we write well written articles for your blog then you will be perceived as an expert in your field. Again, valuable SEO points will be given and your ranking will again get a boost.
Proper Keyword Density – The old school method of SEO article writing is basically dead now. It involved keyword stuffing. Search engines are very savvy these days and only reward points basically if you have just the right keyword density throughout an article. Major search engines will award you with higher SERP rankings if you always think "quality" and not "quantity".
LSI Optimization – LSI (Latent Semantic Indexing) is a term used by Google to describe how related keywords are needed to complement the main keyword phrases. The SEO benefit here is that you will gain more relevance in Google and other major search engines as a result leading to a better ranking for your website.
Proofreading – Most humans are prone to making mistakes while writing articles. Our articles, however, are proofread before they are published on your blog, landing pages, or website.
What is an SEO analysis?

An SEO analysis is a combination of evaluating the current and target status of a domain with regard to search engine optimization. In addition, the previous development of the domain and the activities of its competitors are analyzed in order to obtain an individual, sustainable strategy.
How fast is an SEO analysis done?

An initial consultation is usually possible on the same working day. This will give you an immediate professional assessment of how to proceed. Detailed analyzes are precision work and therefore time-consuming. Depending on the complexity of the website or online shop, the lead time is at least a few working days.
How much does an SEO analysis cost?

Our initial consultation is free. The costs for a professional SEO analysis vary depending on the complexity of the website or the online shop and whether there is a penalty from Google or not. We offer analysis for a one-time flat fee, there are no hidden costs.
What does an SEO analysis include?

The scope of an SEO analysis is measured directly by the existing website or shop and the objective. Depending on the goal, we analyze the causes of a penalty or the reasons for the lack of growth at Google. In any case, we analyze all pages and all elements of the respective domain in order to find errors even in the lower hierarchical levels.
What is the difference between SEO analysis and SEO strategy?

With us, every SEO analysis leads to an SEO strategy based on facts and figures. Our analyzes include concrete strategic recommendations for action that can be implemented by our customers or third parties. In addition, we also offer implementation and support as part of ongoing engagements.
Keyword analysis for semantically perfect search engine optimization
Contrary to popular belief, the right search terms not only determine the success or failure of a website on Google. On the contrary: Incorrectly selected keywords are one of the most common reasons why websites only pay off late or never at all.
In addition, the right keywords also stand or fall as to whether a good conversion rate (conversion rate from visitors to customers) can be achieved and whether users will find exactly what they were looking for on the website thanks to strict content guidance.
The right search terms don't just come to mind. On the contrary. They are the result of extensive research, statistical evaluations and a differentiated SEO analysis of the market environment as well as optimally researched competitors. The analysis of these factors, combined with our expertise, results in a particularly relevant keyword pool. As part of our keyword research, search terms are not only listed, but also their possible uses are shown, which in turn go far beyond just being entered into the meta tags. Rather, we provide a complete strategy for the optimal use of these terms:
We develop an individual keyword strategy for you, differentiate the search terms according to their importance in primary and secondary – depending on the size of your website also in tertiary – important keywords. Our strategic keyword analyzes are ideal for both new and established websites and online shops, and show previously unused potential that can be optimally activated on the basis of our search term strategy.
Most Frequently Asked Questions About SEO
What is SEO?

SEO stands for "Search Engine Optimization." It is the practice of optimizing a website in order to improve its ranking in search engine results pages (SERPs). This is done through a variety of techniques, including on-page optimization, off-page optimization, and technical SEO.

Why is SEO important?

SEO is important because it helps to increase the visibility of a website in search engine results pages. This is important because the higher a website ranks in the SERPs, the more likely it is to be seen and visited by users. In turn, this can lead to increased traffic and potentially even more business or revenue.

How do search engines rank websites?

Search engines use complex algorithms to determine the ranking of websites in the SERPs. These algorithms consider various factors, such as the relevance and quality of the content on a website, the number and quality of links pointing to a website, and the user experience of the website.

What are some best practices for SEO?

Some best practices for SEO include:

Creating high-quality, relevant content that provides value to users
Using keyword-rich and descriptive titles and headings
Including internal and external links to other high-quality websites
Optimizing images and other media with descriptive file names and alt text
Using a mobile-friendly design and ensuring fast page load times
Ensuring that the website is easy to navigate and use

Can SEO guarantee top ranking in search results?

It is not possible to guarantee top ranking in search results, as the algorithms used by search engines are constantly evolving and becoming more sophisticated. However, following best practices for SEO can increase the likelihood of ranking well in the SERPs and can also improve the overall quality and user experience of a website. We are also convinced that a technically optimized website or online shop that offers the user a great user experience and offers a lot of important and relevant information will automatically achieve a higher ranking. As long as you don't try to trick Google or other search engines, and wait that Google will place your site at the right place, everything will be fine.

Is SEO a one-time activity?

Definitely not, SEO is not a one-time activity, but rather an ongoing process. Search engines constantly update their algorithms, and the practices that work well for SEO can change over time. As such, it is important to continually monitor and optimize a website in order to maintain and improve its ranking in the SERPs.

How quickly is a return on investment achieved?

This is always difficult to answer. Here it depends on various factors: How high is the competition, how old is your website, have there been previous SEO measures, how complex is your topic, etc., but there should be a significant increase in the number of visitors on most pages show after about 3-5 months. But it is very important that a website is constantly optimized and offers new content.

Why is content so important for a website?

Good and unique content should inform your users and offer a clear advantage. With content you should offer your users or potential customers as many details as possible that are informative and offer a clear advantage.

What types of content are there?

For example, you can offer text content on your website. This text can be presented on the individual landing pages or blog posts. You can also offer content in the form of tables that provide a clear structure and are filled with important content. You can also offer image or video content. Unique images are very important to make your website more personal. It is always better to take your own pictures than to use stock images. Likewise, it can be beneficial to present your products or services in video format as well.