Do you want to grow your company with SEO and digital marketing?
But you don't want to spend a fortune on an agency?
We can help you with that!
Here is our offer for you
We work for you completely free of charge!
Doesn't that sound great? Free SEO and digital marketing?
To be too good to be true? What's the catch?
There is actually a "little catch"… of course, we can't work completely for nothing… I think you can understand that…
But what if I suggested that we work for your company completely free of charge and take care of the digital marketing and SEO (search engine optimization) for you until we reached a specific goal for you.
After we have achieved a specified increase in lead generation or organic traffic, you simply give us a certain percentage of your monthly sales.
We work every month to increase your sales volume!
So the full risk is on us. Every month we do everything we can to increase your leads or your organic traffic in order to achieve certain goals.
Through this type of cooperation, we are highly motivated to increase your sales in the shortest possible time!
Here are a few facts about us and our company
For more than 20 years we have been helping our clients increase their authority, increase their sales and increase their online visibility through digital marketing and SEO.
We have already been able to help many companies in various industries to increase their sales enormously.
Our head office is in Malta. But we work with companies around the world.
We have a strong and experienced team that can find out the optimal marketing measures for you and implement them professionally.
By working with the company Datacrypt, you will bring enormous marketing and SEO expertise to your team. Together with you we increase your organic visibility and increase your leads and sales!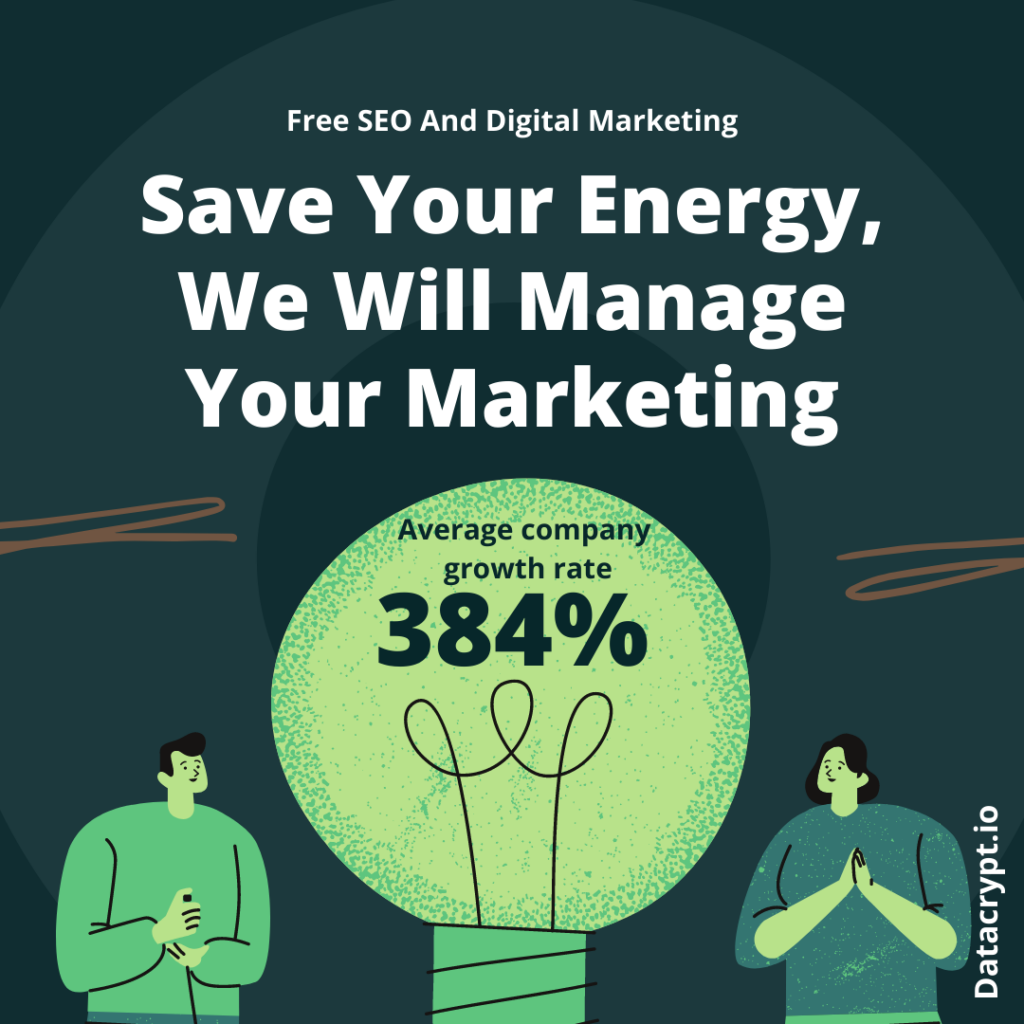 Here's an example that shows you how free marketing and free SEO can work for you.
Let's assume you are in the real estate niche:
You are competing with many other real estate companies in your region.
Your website gets 10,000 organic page views monthly.
You find it difficult to increase your number of visitors and leads
Here is our solution for you and your business:
We optimize your website using search engine optimization (SEO)
We expand your blog section with high-quality articles to present you as an authority in the market.
We make sure that you get an enormous increase in traffic.
We make sure that you get more leads

In these examples, you can see that it can be very lucrative for both sides. The more we can increase your sales, the more we earn. So our motivation is extremely high to make you and your business successful and to increase your sales, your leads, and your organic traffic enormously.
This model can be applied to almost any industry or niche.
How does our payment model work?
We don't want to be paid for our work in the beginning. We want to show you that we can increase your sales. If you don't like what we doing, you can end the cooperation at any time.
After we have agreed on cooperation, we set certain milestones that we have to reach in order to participate in the sales of your company.
If we don't reach these milestones and can't increase your leads or traffic as agreed, you don't have to pay anything! You will get our optimization on your website for free.
For example, if your company website currently has 10,000 monthly visitors, our goal is to increase your number of visitors to 30,000 monthly visitors and keep it there.
If we reach this number of visitors, you give us a 15% share of your monthly company sales.
But we can also work with the lead generation model.
For example, if you are currently generating 1000 monthly leads from your website, our goal is to increase lead generation to 2000 leads per month. Only when this number has been reached do you give us a 15% monthly share of the sales of your company.
Of course, we don't stop then, we continue to work every month on increasing your sales. Every time we increase your leads or page views by a certain number, we receive further smaller percentage shares of the monthly sales of your company.
So you see, you have nothing to lose. Even if we receive a monthly profit share from your company, you will still make more net profit.
You have nothing to lose! If we don't achieve the agreed goals, you don't have to pay us either.
We also have a few requirements for you!
Unfortunately, it is not possible for us to work with every company.
Your company or website must meet a few criteria:
Your company must have more than ten permanent employees.
Your company website must be at least two years old.
You have full access to your website.
You are willing to share sales figures of your company with us.
You have full access to your Google Analytics account.
You have a strong sales team that can convert our generated leads into revenue.
If our offer sounds interesting to you and your company meets all the necessary requirements, then send us a message using our contact form!