Would you like to create a new website or online shop? Then of course you need a proper domain name.
Here we offer you the best tools to help you find a suitable and available domain name. We present you here a total of three great tools that enable you to find a suitable domain name in a very short time.
Here is the first tool to find a domain name:
With the A2 domain finder tool, you can easily enter your desired domain name and the tool will show you whether the domain name is still available or not.
If the domain name is already taken, the tool will suggest suitable and relevant domain names, which you can then register directly.

Here is the second tool to find a domain name:
With InstantDomainSearch you can simply type in your desired domain name and the tool will show you in real time whether this domain name is still available or whether it has already been taken.
So you can quickly and easily type in different names and quickly find out whether you can register this domain.
Here is the third tool to find a domain name:
With DomainWheel you can simply enter keywords that match your business or niche and when you click the "Search Domain" button, the program will show you which domains are available and match your keywords.
Have you found your perfect domain name?
That's great! Now all you need is a hosting account to develop your new website. Did you know that you can get website hosting for under $3 a month?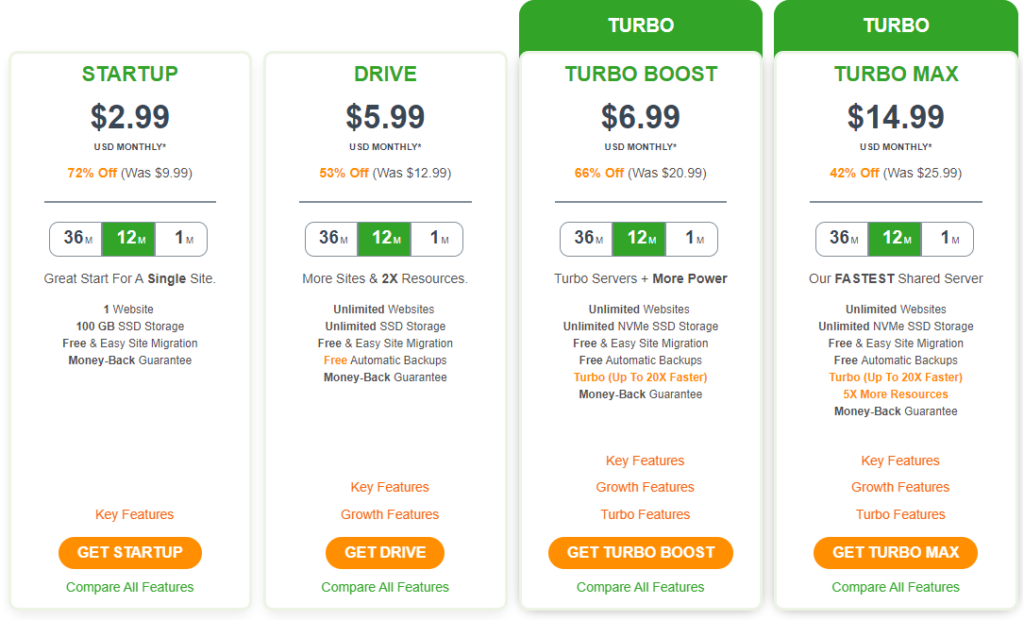 Building your own website is super easy with A2Hosting. Just register quickly and take advantage of the low price!
Why do you probably only need the cheapest hosting package?
In this example from A2Hosting, you have several hosting/domain packages to choose from. Of course, the cheapest package is designed to be the most inconspicuous… 😉 Of course, companies always try to sell you the most expensive package… but do you really need it? No, in our experience the cheapest hosting package for under $3 is sufficient for most private individuals and companies.
The hosting package described here also includes everything you need to create a professional website or online shop with WordPress and WooCommerce. The domain/hosting package for $2.99 offers everything you need to create a professional website and save money at the same time.
This is inclusive:
1 website including domain name
100 GB of storage space (that's more than enough for larger companies and also online shops. What uses up the most storage space are images, so you can calculate for yourself how many images you can host, the other code from WordPress and WooCommerce is rather small and needs not to have much disk space)
One-Click-WordPress installation: With just one click you can install WordPress yourself, it couldn't be easier.
Unlimited Email accounts: You can create as many email addresses as you like.
Free-SSL: an SSL certificate is very important! So in the $2.99 hosting package, you get a free SSL certificate.
Good service: If you have any questions, you can always open a support ticket.
…so you see, it is not always necessary to spend a lot of money on a domain and hosting. For most projects or websites, a cheap hosting package is usually sufficient. And if you need more memory later, you can easily upgrade!
If you want to know how to create your own website or blog using WordPress, here is a blog article that will help you create your website.
Ok, you found the perfect domain name, what's next?
Great, you found a free domain name and now you want to create a website or create an online shop? No problem, after you have registered the domain and bought a hosting package on which all website data can be stored, you can access the backend of your hosting contract.
First, you should install and activate the SSL certificate. You can find this option in the "SSL Certificate" section. There you simply click on "Activate"… that's it, now your website is protected and transfers the data via a protected connection.
Now all you have to do is install WordPress. In the backend of your hosting contract, you have the option of installing WordPress using a "One-Click-Installation-Tool".
After WordPress has been installed, you can access your new WordPress website with the login data and start designing the website as you wish also install plugins that extend the functions and allow you to design your new website according to your wishes.
If you have further questions or need help with the design of your website or online shop, you can of course contact us at any time. We would be happy to make you an individual offer for the design of your new website or your new online shop. You can use our contact form to get in touch with us.
Check Domain
Here you can check the availability of your desired domain name online within a very short time and completely free of charge: Enter the domain name of your choice in the search field above and select the desired domain ending – the so-called "top-level domain" (for example Example: .net or .com).
You can book other interesting web addresses and domain extensions directly after the domain check if you wish. This is also possible in combination with a suitable hosting package, website kit (WordPress), or webshop. In this way, your start on the Internet will be a smooth one.

Important information about domain names
Unique Domains
The more memorable and concise the address for your webspace, the easier it is for visitors, i.e. customers and prospects, to find your content and offers – and the easier it is for word of your domain name to get around. A unique domain name is an important key to success. It differentiates you from the competition and helps you stay in the minds of your visitors.
Various combinations are available for you to choose from. Depending on the tariff, you can even use special characters and umlauts for your domain. Combined with a distinctive top-level domain (TLD), you give your private homepage or company website an unmistakable appearance.
TLDs for everyone
Top-level domains (or TLDs for short) reveal something about the origin, language, or type of website. For example, the domain extension .ca refers to Canada, .com often stands for international (commercial) sites and .org for (non-commercial) organizations. In addition to city-related top-level domains such as .nyc or .london, there are also industry-related endings such as .photography or .pics for photo sites.
If you are internationally active or plan to do so, you should check other variants of your desired domain if necessary – especially if the domain name contains your company name or brand name. For example, it makes sense to register the appropriate .eu or .net domain in addition to a .com domain.
In any case, it pays to plan ahead and think carefully about which domains you may need in the future. Perhaps you would like to launch a project website under an unusual name as part of a marketing campaign? Or add a blog to your website? Or would you like to realize different projects and publish each one under its own internet address? Then it is worth checking and securing several web addresses with the domain check.
Domains for businesses
If you are looking for a suitable address for your company webspace, you should consider the following:
A meaningful domain name that is unique, distinctive, and easy for customers to remember has the best chance of success.
The company name or a brand name often works well as a domain name as well. Combine this with a concise top-level domain.
Internationally active companies ideally combine the domain name with the top-level domains from their customers' countries.
In addition to classic domain endings such as .com, .eu, .net, .org, and Co., there are now a large number of new, creative variants available to you.
If you are looking for domains for your company website, you should not only think of your company name but also combine terms that your customers are looking for on the Internet. For example, create possible domain names from your service and a location if you act as a local service provider.
Top-level domains such as .shop, .shopping, .restaurant, or .club indicate at first glance what your site is about.
Secure the most important keywords for your business as a domain in order to then redirect them to your website.
Special characters and umlauts are possible depending on the package and domain extension. However, keep in mind that your visitors or customers must also have these characters on the keyboard in order to be able to select your Internet address without any problems. Depending on the country or region, the layout of the input elements may vary. If in doubt, you should therefore avoid "exotic" characters in the domain name.
Domain already taken?
Each domain is unique and can only be registered by one person or organization. Depending on the top-level domain, different registration authorities are responsible for the assignment.
If it is already "occupied", you will see this immediately in the domain check. In any case, we will then suggest alternatives and other top-level domains that are still available and might interest you. If necessary, your desired name can also be easily modified. It is best to secure your desired address(es) right away before someone forestalls you!
Here you can buy your desired domain(s) cheaply right after the domain check. The "Select" option appears behind each domain that is still free. With just one click, you can then place your desired domain in the shopping cart and secure it directly at a low price.

"Whois" domain query: Who is behind which domain?
A Whois query provides information about the owners of Internet domains and IP addresses. Every registry is obliged to maintain a Whois domain database according to international standards so that users can find out the contact details of the domain owner and the administrative contact person (AdminC) for each website. The Whois query, therefore, provides the necessary information to contact the operator of a website.
When is a Whois query possible?
In general, owner data can only be accessed by the owner of the domain. Information about the owner will only be passed on to third parties in exceptional cases. For example, if you are the owner of a name or trademark that the domain may infringe on or if you believe the content of a website is illegal.
How to proceed with the Whois domain check
On sites like https://who.is/, Internet users can quickly and easily query information on various TLDs. Since Whois domain databases are always managed by the respective domain name registry, a query is also possible directly via the website of the relevant administration office. An overview of other registries for generic and new top-level domains can be found in the ICANN registry listing.
Frequently Asked Questions
What exactly does the domain check show me?

A domain check checks whether the domain entered in the search field is still free or already registered. A database query is started in the background for this purpose. The check only takes a few tenths of a second before you see the result. The domain name checker not only shows the result for the queried domain including its extension, but the tool also suggests various alternatives. This is very practical because these domain suggestions can be the basis for creative ideas.
Classic country endings such as .com, .net, or .ca can be just right for your project. At the same time, the domain search also checks endings from various sectors, with which you can query and register the right domain combination.
Sometimes you will be shown that a certain combination is already occupied or that it is "unavailable". This information is important for you because such a domain cannot be registered due to trademark law (to protect you from trademark infringement). It is best to choose an alternative from the list of suggestions.

How often can I use the domain name checker to check a domain?

You can use the domain name checker until you have found the right domain including the ending (be it a country ending or a so-called TLD) – free of charge. Please keep in mind that a domain only appears as registered in the domain check when the relevant registrar has entered the domain owner and the name servers for it.

Who owns a domain?

In general, domain assignment is based on the "first-come, first-serve" principle. Anyone who has registered a domain in their own name and is entered in the so-called Whois database as the domain owner is considered the owner.
Exceptions can apply if, for example, there is a patent, name, or trademark right. Aspects such as the domicile of the registered owner, the prominence of the name, or the notoriety of a company name can play a role when it comes to determining the rightful owner of a domain in a dispute. ICANN (Internet Corporation for Assigned Names and Numbers) has developed an arbitration procedure to support domain disputes, the so-called UDRP (Domain-Name Dispute-Resolution Policy).