Digital marketing is an umbrella term for all marketing activities that are carried out online. Businesses use digital channels like Google search, social media, email and their own websites to connect with their current and potential customers.
People now spend twice as much time online as they did 10 years ago. At the risk of repeating ourselves, the way people shop today has completely changed. This means traditional offline marketing isn't as effective as it used to be.
What is digital marketing in Malta?
Digital marketing is any form of marketing that you find online. Marketing has always been about making contact with your target group in the right place and at the right time. Today, that means you need to meet your customers where they spend their time: on the web.
We often talk about inbound marketing as a highly effective way to engage, convert, close and ultimately delight customers online. But we keep receiving questions from all over the world about digital marketing.
We help customers worldwide with the topic of digital marketing, not only in Malta.
A seasoned inbound marketer might be tempted to say that inbound marketing and digital marketing are pretty much the same thing. However, there are a few small but subtle differences. We spoke to marketers and business people in the US, UK, Malta, Asia, Australia and New Zealand and learned a lot about these small differences and how they are perceived around the world.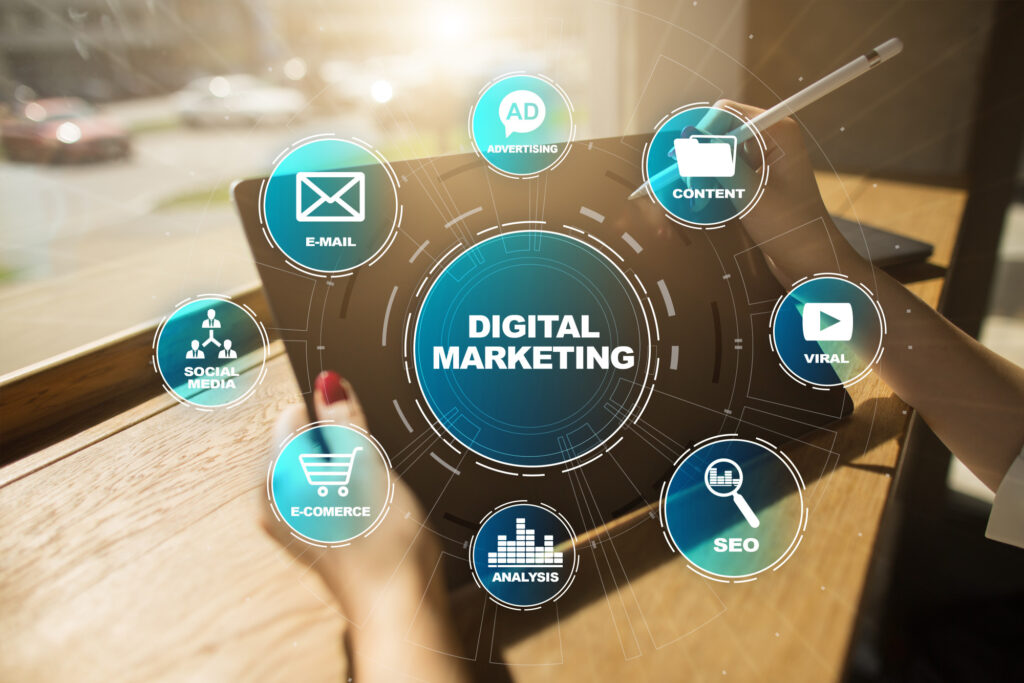 Tactics & tools in digital marketing
Digital marketing encompasses a wide range of tactics and materials – from your website to online branding materials, digital advertising, email marketing, online brochures and more. The best digital marketers have a good understanding of which materials or tactics work best for each goal they set themselves.
Here is a small overview of common materials and tactics:
Your website
Blog posts
eBooks and white papers
Infographics
Interactive tools
Social media channels (Facebook, LinkedIn, Twitter, Instagram, etc.)
Online reporting (PR, social media and reviews)
Online brochures and lookbooks
Branding materials (logos, fonts, etc.)
What tactics can we help you with in digital marketing?
Search Engine Optimization (SEO)
Content marketing
Inbound marketing
Social Media Marketing
Pay Per Click (PPC)
Affiliate Marketing
Native Ads
Marketing Automation
Email Marketing
Online PR
Search Engine Optimization (SEO)
The goal of optimizing your website is to increase your organic (free) traffic to your website by ranking higher in search engine results.
Content marketing
The creation and distribution of content materials aims to increase traffic, brand awareness, lead generation and ultimately the number of customers.
Inbound marketing
The term inbound marketing describes an approach that involves the entire marketing funnel. The goal is to engage, convert, do business with, and delight customers through the use of online content.
Social Media Marketing
With this approach, you promote your brand and content on social media channels to increase traffic, brand awareness, and generate leads for your business.
Pay Per Click (PPC)
This term describes a billing method in paid online advertising where you pay an amount for each click on your ad. One of the most famous providers of PPC ads is Google AdWords.
Affiliate Marketing
This is a performance-based advertising fee that gives you a commission when you advertise someone else's product or service on your website.
Native Ads
Native advertising is about content-based advertisements on a platform where they are displayed alongside unpaid content. A good example of this is sponsored posts on BuzzFeed. Many marketers also consider social media advertising to be 'native', e.g. B. Advertising on Facebook and Instagram.
Marketing Automation
Marketing automation is a term for software used to automate marketing actions. Many marketing departments have repetitive tasks that they can automate, such as emails, social media posts, and other actions performed on websites.
Email Marketing
Businesses use email marketing as a way to reach out to their target audience. Email marketing is commonly used to promote content, discounts, events, and also to direct people to the company's website.
Online PR
Online PR is an activity that aims to promote or cause reporting on one's own company in digital media, on blogs and other content-based websites. It's similar to traditional PR – but online.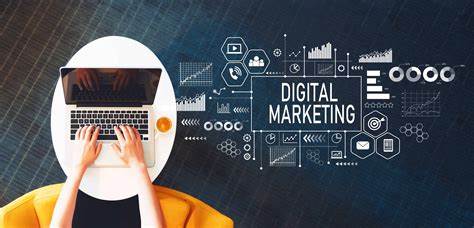 What is the difference between digital and inbound marketing?
On the surface they are similar: both operate primarily online and both focus on creating digital content to be consumed. So what's the difference?
The term digital marketing does not differentiate between push and pull marketing tactics (what we now also call inbound and outbound methods). Both methods fall under the umbrella term digital marketing.
Digital outbound tactics aim to get a marketing message seen by as many people as possible online, whether its content is relevant or welcome. An example of this is the flashy banner ads that are displayed on many websites to get people in front of a product or promotion, even though they may not be ready to hear the message.
Marketers employing digital inbound tactics use online content to entice their target customers to visit their website by providing helpful materials. A simple but extremely effective digital inbound tool is a blog. It allows you to customize your website with the terms your ideal customers are searching for.
Inbound marketing is a methodology that uses digital marketing materials to engage online visitors, convert them into leads that are then used to close deals, and then delight those customers. Digital marketing, on the other hand, is a simple umbrella term that describes online marketing tactics of any type, whether inbound or outbound.
Does digital marketing work for all businesses? B2B and B2C?
Digital marketing can work for any business in any industry. No matter what your business sells, digital marketing involves identifying buyer personas to identify the needs of your target audience and create valuable online content for them. However, that doesn't mean that all companies should build their digital marketing strategy the same way.
In the B2B area
If your business is in the B2B space, your online marketing will focus primarily on lead generation. Ultimately, your goal is to persuade potential customers to get in touch with your sales department. Therefore, the role of your marketing strategy is to attract and convert quality leads for your sales force, using your website and other supporting digital channels.
Beyond your website, your activities are more likely to be focused on channels like LinkedIn, where your target demographic hangs out online.
In the B2C area
If your business is B2C, depending on the starting price of your products, the goal of your digital marketing efforts is likely to drive visitors to your website and convert them into customers without ever having to speak to a sales rep .
Because of this, you probably aren't focused on generating "leads" in the traditional sense. You're more likely to focus on an accelerated buyer's journey – from the first website visit to the actual purchase. That means you're already putting information about product features in your content for the higher stages of the marketing funnel – sooner than you would in a B2B company. In addition, they likely need stronger or more specific calls-to-action (CTAs).
For companies in the B2C sector, channels like Instagram and Pinterest are often more valuable than platforms like LinkedIn, which are more about work.
What are the key benefits of digital marketing?
Digital marketing allows marketers to see precise, real-time results of their campaigns, which is not possible with most offline marketing activities. If you've ever placed an ad in a newspaper, you probably know how difficult it is to estimate how many people have flipped to that page and even noticed your ad. There is no definitive way to tell if the ad was responsible for any sales.
With digital marketing, on the other hand, you can measure ROI on pretty much every aspect of your marketing efforts.
Here some examples:
Website traffic
With digital marketing, you can determine the exact number of people who viewed your website's homepage in real time. This is made possible by using digital analytics software like HubSpot. You can also see how many pages they visited, what device they used, where they came from and other digital analytics data.
These insights will help you determine which marketing channels to focus on based on the number of people who are directed through those channels on your website. For example, if only 10% of your traffic comes from organic search results, you know that you probably need to invest more time in your SEO to increase that percentage.
With offline marketing, it's very difficult to determine how people have interacted with your brand before they contact your sales force or buy something from you. With digital marketing, you can identify trends and behavior patterns of your target customers before they reach the final stage in their buyer's journey. This means that while you're already at the top of the funnel (TOFU), you can make more informed decisions about how to drive them to your website at the right time.
The performance of your content and lead generation
Imagine you created a product brochure and sent it out as a direct mail piece. This brochure is offline content in this case. The problem is that you have no way of tracking how many people opened your brochure and how many ended up straight in the bin.
Now imagine that you make this brochure available on your website. They can accurately measure how many people viewed the page hosting the content and collect contact information from those who downloaded the offering through forms. So not only can you measure how many people engage with your content, but you generate qualified leads when they download it.
Attribution
An effective digital marketing strategy combined with the right tools and technology allows you to connect all of your sales to the first digital touchpoint a customer has with your business. We refer to this as "attribution". With it, you can identify trends in the way your customers search for and buy your product. This will help you make more informed decisions about which parts of your marketing strategy need more detailed attention and which parts of your sales cycle need improvement.
Establishing a connection between marketing and sales is of great importance. According to the Aberdeen Group, companies whose sales and marketing are aligned achieve a 20% annual growth rate, while those who are poorly aligned see a 4% reduction. If you can use digital technologies to improve the customer experience throughout the buying cycle, it will most likely have a positive impact on your sales.
How long does it take to achieve success?
With digital marketing, it can feel like success comes much faster than with offline marketing. That's because it's easier to measure your ROI. Ultimately, however, your true success depends on the scale you choose and the effectiveness of your digital marketing strategy.
Take the time to create comprehensive buyer personas and identify the needs of your target audience. Then focus on creating quality online content to engage and convert your audience. Then you will probably be able to see good results in the first six months.
When paid advertising is a part of your digital strategy, the results will show up even faster. However, we recommend that you focus on building organic (or 'free') traffic using SEO and social media for long-term, sustainable success.
Do you need a big budget for digital marketing?
That depends on what elements of digital marketing you want to include in your strategy.
If you already have a website and want to focus on inbound techniques like SEO, social media, and content creation, you don't need a big budget. In inbound marketing, the focus is on creating quality content that your target audience will want to consume. Unless you're planning on outsourcing your content creation, all you have to do is invest your time.
When it comes to outbound techniques like online advertising and buying email lists, you definitely have to anticipate expenses. How high the costs are depends on the visibility you want to achieve as a result of the advertising.
For example, if you want to run PPC ads through Google AdWords, you'll need to bid against other companies in your industry to get your keywords to appear in the top search results. Depending on how much competition you have for the chosen keyword, this can be quite affordable or extremely expensive. That's why it's better to focus on growing your organic reach.
I'm ready to try digital marketing. What now?
If you're already doing digital marketing, chances are you're reaching at least some segments of your audience online. However, you certainly won't have too much trouble identifying areas of your strategy that could be improved a little.
We would be happy if you contact us and we can then advise you personally on your individual marketing strategy!